School Council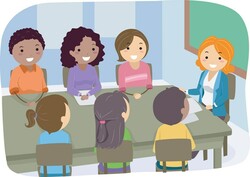 The school council is composed of several members who represent St. Marguerite Bourgeoys Catholic School, including parents, teachers, non-teaching staff and the community.

The objective of the school council is through the active participation of parents to improve student achievement and increase accountability of the education system.

The school council's duties include school budget, curriculum, school calendar, the code of conduct, the priorities of the school curriculum, the mission of the school, safety and special projects.
We are always looking for new members to join parent council and encourage you to get involved. Please contact the school for more information if you are interested in holding a position on our school council. ALL parents are encouraged to attend meetings. 
If you would like to stay up to date with school council information you can always check out their new facebook page. School Council Facebook Page
St. Marguerite 2019-2020 School Council Members:
Chairperson: Bobbie Nelner
Vice Chair: Lindsay Callan
Secretary: Breanne Schwartz
Treasurer: Amanda McQuaid
Upcoming Meeting Dates:
November 18, 2019
January 20, 2020
March 16, 2020
May 11, 2020
June 8, 2020
September 30, 2019 Annual General Meeting
All meeting start at 6:30 p.m. in the conference room